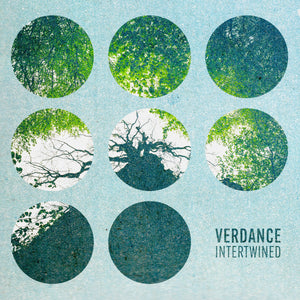 Verdance - Intertwined [MP3 Digital Download]
Jake Brown, a seasoned UK producer also known as Handbook, has an extensive portfolio as a lo-fi beatmaker. Through his Verdance alter ego, he delves into nature-inspired organic electronica, drawing influence from expansive landscapes. Inspired by Wordsworth's struggle to capture the essence of 'nature', Verdance creates music that embodies different facets of the natural world. With rich productions featuring deep electronic grooves, subtle foley, and intricate soundscapes, his sound consistently reflects the profound connection between his creativity and the natural realm.


Verdance's forthcoming album, 'Intertwined' is no exception. Across eight stellar tracks, the collection skillfully blends artificial and organic instrumentation. With soaring peaks and nirvana-state troughs, the album gracefully rises and falls, delivering a prominent and emotionally engaging experience for listeners.

Despite being a relatively new project, Verdance has already garnered substantial support from the likes of BBC Radio 1, BBC 6Music, FIP, XLR8R, IndieShuffle, Martin Garrix, Radio Eins, and Spotify all championing the producer's work in recent times.
Track Listing:
01. Brevity
02. Abundant
03. It All Depends
04. Sympathy
05. Expectant
06. Fruits
07. Intertwined (feat. Sam Island)
08. Take It Back